How to clean hard floors
Achieving a 'barefoot clean' on hard floors is important for the health of homes, but knowing how to clean wood floors and tiled or laminated areas can pose a challenge.

19 July 2022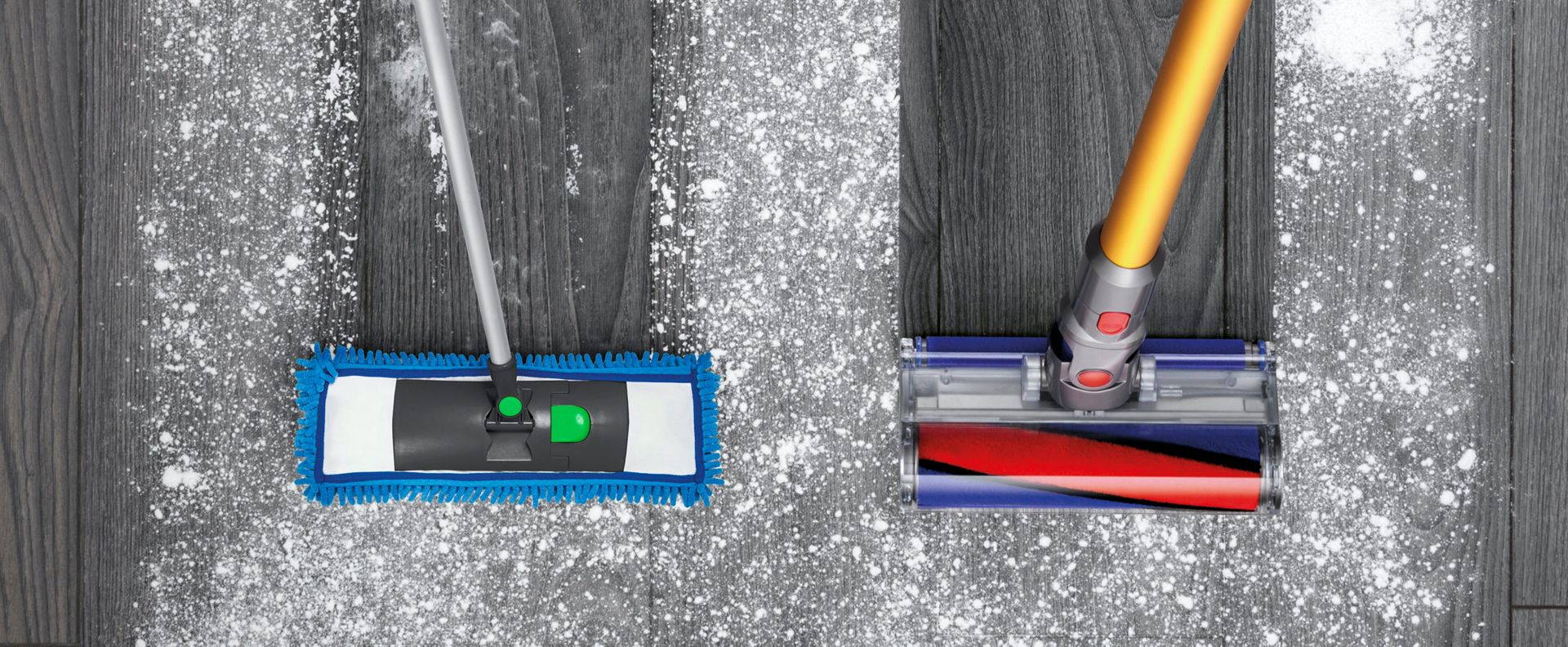 Dyson's vacuums are underpinned by a commitment to complete cleans, which we achieve through a scientific understanding of particles and pollutants. As Sharon Yap, Head of Technology Development at Design explains, "Our 30 years of research in microbiology shows that the best way to get rid of dust allergen is to remove it completely from your home – which is why we invest so heavily in vacuum cleaner technology."
When cleaning hardwood floors, often only visible dust and dirt is addressed. In order to achieve a complete clean, particles that aren't visible to the human eye must be captured too. This is only possible with the right cleaning technology and approach. As Sharon says, "In order to capture the fine dust and dirt that may not be seen to the human eye, you need an effective vacuum that picks the dust up, has efficient cyclones to keep it in the machine, as well as filters and seals to make sure it's not emitted back into your home.  By doing this, you can then move on to the next step of cleaning your floors to achieve that true barefoot clean."
Dyson's experts explain the best tips on how to clean tile floors, timber and more, and the best vacuum for hardwood floors ahead.
Considerations for cleaning hard floors
As with anything worth doing properly, there are right and wrong ways to clean timber floors and laminated or tiled areas. A hard floor vacuum is a vital part of your clean, but there are also other considerations which determine the result's success.
One important factor is how long you wait between vacuuming and mopping. "There is a common misconception that it's ok to go straight into mopping floors as that cleans up all the dirt in your home." explains Sharon. "If dust isn't removed fully prior to wet cleaning, then it can be smeared across hard floors when mopping your floors, potentially leaving a dirtier rather than a cleaner floor."
Other considerations include how often you clean, how you manoeuvre your stick vacuum, if you should clean some areas more than others, and the accessories to use such as the Fluffy™ cleaner head, engineered specifically for hard floors.
Different types of hard floors
It's a common misconception that hard floors are more resistant to wear than other materials. "Many people believe that hard floors are more resistant to wear and tear – for example, marble flooring is a common type of flooring in many households, and some might use cleaning products that contain ammonia or acids, which will cause the flooring to erode and be uneven! Even while scrubbing the floor, be sure not to use anything with sharp bristles like metal scrubbers". For best results, treat each separate flooring type with a different approach.
How to clean hard wood floor
To clean wood floors properly, use your hard floor vacuum at least once a week. This helps to prevent dirt from becoming ground in and removes invisible particles that may trigger allergies. Our most powerful vacuum yet1, the Dyson V15 Detect™ uses a precisely-angled laser to make invisible dust visible on hard floors – so you don't miss anything.2 "I try to give the high traffic areas of my home a little extra attention, such as kitchens and bedrooms, as the floor can quickly collect a lot of dirt, debris and stray hairs." Mop once floor is completely dry, to avoid damaging the machinery.
How to clean tile floors
Tiled floors are commonly used across bathrooms and kitchens as a waterproof solution. These areas are exposed to dirt and require constant upkeep to stay clean. When vacuuming tiles, begin with the borders and move in long strokes, repeating each stroke up to three times to ensure any embedded dirt is lifted up. Our slimmest, most manoeuvrable vacuum3, the Dyson Omni-glide™ perfectly moves on hard floors like tiles. The articulating neck on the fluffy brush bar allows you to move seamlessly around obstacles and into tight spaces.4
How to clean laminate floors
Laminated floors require a hard floor vacuum that won't scratch the surface. The Dyson hard floor Omni-glide™ vacuum has an omnidirectional Fluffy™ cleaner head that is made with anti-static carbon filaments to pick up fine dust without causing damage to the floor. Regular vacuuming is essential on these areas – aim for a minimum clean of once per week, and don't over mop, as liquid can seep in over time.
Other tips for cleaning hard floors
When cleaning, keep the right vacuum accessories handy. While it may seem like an effort to change tools mid-vacuum, this will help you remove dust you can see, and dust you can't. Tools like the Low-reach adaptor adjust the wand angle to 90° to reach under furniture comfortably.
For how to clean floorboards and other materials of stains, avoid reaching for stronger chemicals and cleaning agents straight away. Dr Calum Robertson, Chemical Research Scientist at Dyson says, "Wooden floors have grooves and even tiles can be porous and absorb stains… the strong chemicals aren't always the best solution – bleach can remove the varnish on wooden floors, so it's always safer to start with a lighter solution like soap and water to avoid damaging your floors."
The Dyson V15 Detect™ vacuum uses a precisely-angled laser to make invisible dust visible on hard floors.

The slim and versatile Dyson Omniglide vacuums is perfect to effortlessly manoeuvre around obstacles on hard floors and into tight spaces.
1Suction tested to IEC 62885-4 CL5.8 and CL5.9, loaded to bin full, in Boost mode.
2Laser engineered for hard floors. Effectiveness of laser influenced by ambient light conditions, debris type and surface.
3Compared to Dyson V8TM vacuums, tested by independent third party laboratories.
4Tight spaces refer to gaps that are wider than 20.7cm.