How the Dyson hair straightener protects hair colour
12 April 2022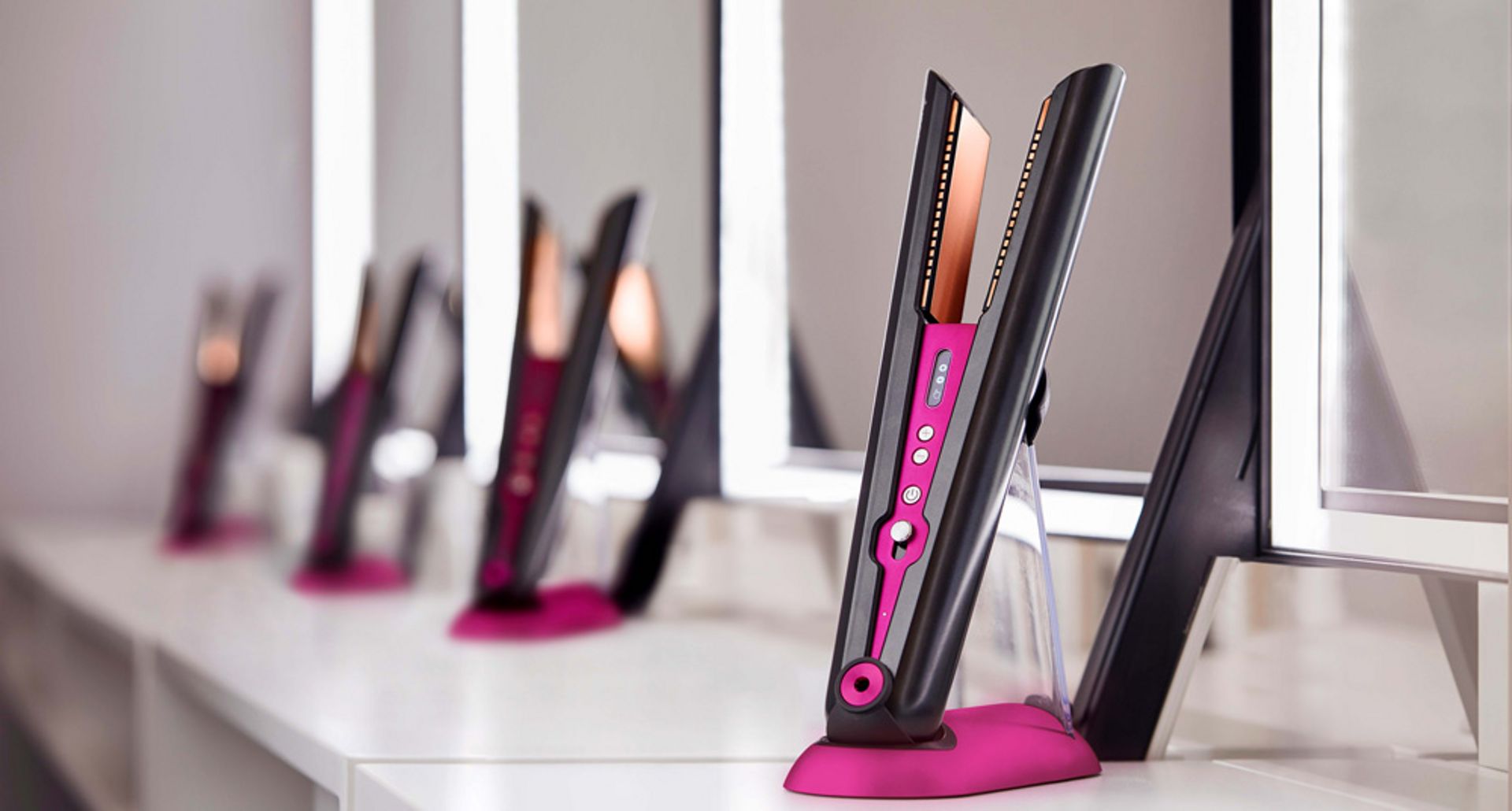 When you decide to change hair colour, the chemicals and dyeing process involved cause damage. After hair is weakened through these treatments, it can become prone to colour fading, breakage and dryness.
To protect the vibrancy of your hair colour alongside shine and strength, proper after-care should be followed. Make sure your hair colour lasts by understanding how to protect it, as well as how to prevent hair breakage caused by daily stressors.
One major contributor to damaged hair and colour fade is extreme heat from styling tools. The Dyson Corrale™ and our hair care range has been engineered with intelligent heat control to stop damage and hair colour fading during styling.
For how to protect hair colour and prevent breakage, read on.
Colour fading factors
A range of external and habitual factors affect the quality of colour and health of hair. Heat damaged hair can cause colour to fade or become dull, alongside the way you choose to change hair colour. Semi-permanent and temporary dye both fade quicker than permanent treatments, as well as:
dye colour: colours like red have larger molecules, meaning they can't penetrate the strand's cortex fully. These tones will fade quicker than black or brown dyes.
over-washing: constantly washing hair after dyeing it will gradually pull the dye molecules out, causing the colour to fade.
already damaged hair: When hair is already damaged, the cuticles are weakened, which causes dye molecules to escape more easily.
Other colour fade causes are ahead.
Sun exposure
Exposure to UV radiation is unavoidable, but it can erode the vibrancy of both natural and dyed colour. Sun exposure erodes the melanin pigments found in natural colour as well as dye molecules.
In New Zealand the UV levels are naturally high. To keep your hair colour strong around this daily stressor, use UV hair protection. Limit direct exposure when outside by wearing a hat and seek shade where possible. These measures reduce UV contact, which also protects keratin levels and supports the strength and feel of hair.
Outdoor activities
Apart from sun exposure, what we do when outside can place stress on hair. Chlorine found in swimming pools strips both natural and dyed colour by attaching itself to melanin and chemicals. It can also make hair feel brittle over time, by causing strand friction and damage to the cuticle.
When this kind of stress is placed on hair, using both preventative and after-care measures can help protect hair from colour fade. Rinsing hair before swimming in a pool reduces how much chlorinated water is absorbed into strands. Follow by rinsing hair directly after a swim to further help lessen the effects.
Seawater
The outer layer of each strand holds in oil, which is hair's natural source of moisture. When you change hair colour, the dyeing process strips away that moisture. The salt in seawater adds to the damage already in place by further pulling water from hair. This places friction on strands, increasing the occurrence of breakage and reducing the health of hair. To protect hair shine and stop colour fading, wear a cap when swimming, and rinse hair as soon as you've finished.
Heat damaged hair
The hair straightener temperature on conventional tools can get to extremely high levels. Regular styling with heated tools causes stress to the outer layer of hair and dye molecules within each strand.
Heat control products can help to minimise the damage incurred on hair. Using a heat protectant spray will coat the cuticle of the hair with silicone before styling, which locks in moisture and acts as a protective barrier.
The pressure and levels of extreme heat applied to strands through conventional tools can dull hair and cause split ends, breakage, and encourage a rough texture. To solve this issue our engineers developed the Dyson hair straightener with pioneering features. Veronica Alanis, Dyson's Engineering Lead explains, "the Dyson Corrale is the only hair straightener with flexing plate technology, and the combination of its flexing plates and intelligent heat control engineers it for less colour fade due to excessive heat."
Protect colour with the Dyson hair straightener
For how to straighten hair without extreme heat damage, discover how we've engineered our tools.
Explore the Dyson Corrale™.
Flexing plates
Solid plates used by conventional straighteners apply a damaging amount of pressure to hair strands. The Corrale™ straightener has been designed with pioneering plates that flex when gathering hair. This alleviates the need for pressure and ensures the hair straightener temperature is applied evenly. The end result is sleek, shiny style with half the damage1.
Pioneering material
A mixture of copper, manganese, aluminium, iron, tin and nickel was used to form the patented flexing plates. This selection of materials gives Dyson Corrale™ optimum flexibility, strength and thermal conduction – for perfect shaping without heat damaged hair.
Intelligent heat control
Heat control is at the heart of our hair technology. The Dyson hair straightener uses an integrated sensor system to monitor and maintain the best hair straightener temperature. By measuring heat levels 100 times per second, the Dyson Corrale™ never strays from the chosen temperature. Three heat settings – 165°, 185° and 210° allow users to tailor their straightener to their hair type.
Long-lasting battery technology
The cord-free technology in the Dyson Corrale™ allows seamless styling from any space. To deliver the same thermal performance of a corded product, the straightener is powered by a four-cell, lithium-ion battery. Spend the time you need to achieve your preferred style without the restraints of having to stay near a wall-plug.
Discover how to style your hair at home next.