How to get rid of dust mites: Prevention tips from Dyson
To determine the prevalence of house mites and the best dust allergy treatment, Dyson tested dust across homes in New Zealand. Are you sleeping in a bed full of dust mites? Find out ahead.
13 April 2022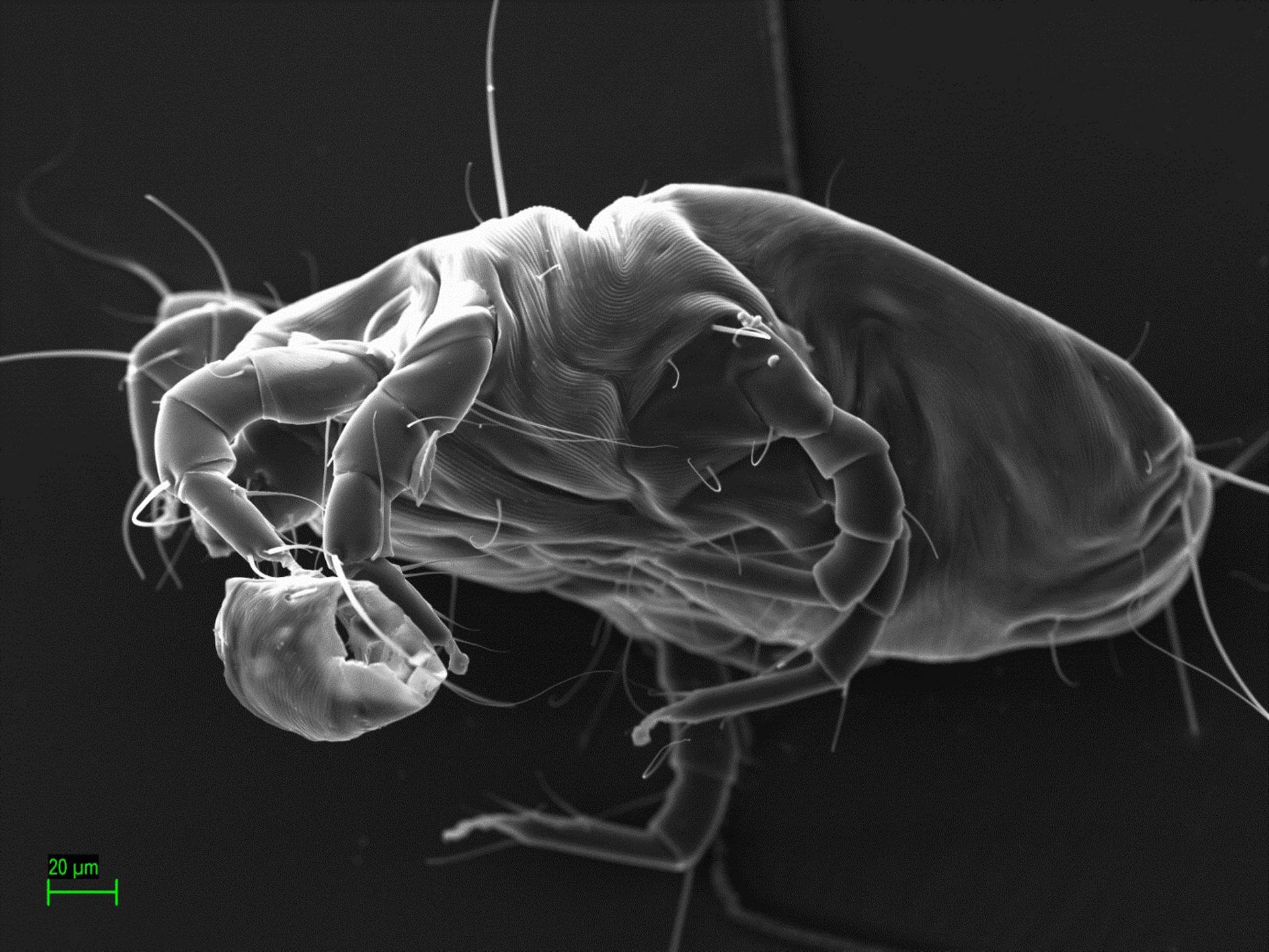 Dust mites and dust allergy symptoms mostly occur in homes with higher humidity levels. More than one in five New Zealand homes are damp at least some of the time, making dust mite allergy symptoms a common problem for Kiwis.
Warm climates isn't the only contributing factor. As Letitia Harding, Chief Executive of the Asthma Respiratory Foundation NZ explains.
"In addition to the climate, areas at home where we sweat, breathe and share our body heat are perfect homes for mites. Sofas, mattresses, pet beds, curtains and other soft furnishings are fertile ground for dust mites, particularly in their breeding season where they take up residence and feed on pet dander (flakes of skin in an animal's fur or hair)."
To find out more about what causes dust mites and how Dyson's vacuum and air purifier technology can eliminate and prevent dust mites, read on.
Dyson's research into house mites
Dyson's pioneering home health technology is developed through a commitment to science. Recently, Dyson looked into house mites around New Zealand – collecting dust samples from real homes around the country.
In one home with a young child and pet dog, a high concentration of dust mites per gram of mattress dust was found. In another home with a pet dog, dust mites were found across mattresses and floors along with human and pet dander, which is what causes dust mites to remain.
House mites are attracted in part by inhabitants, but the general climate and behaviours of homes in New Zealand create great breeding conditions.
"House dust mites thrive in warm, damp and dark conditions, particularly where humidity levels are around 70 per cent and temperatures rise above 25 degrees Celsius. The conditions mean that most of New Zealand, and Auckland in particular, are a perfect environment for dust mites to flourish" says Letitia.
What are dust mites?
House mites are microscopic arachnids – if you've 'wondered what do dust mites look like?', they resemble legged bugs, but are too small to be perceived by humans.
"Dust mites themselves are not dangerous", explains Gem McLuckie, Lead Research Scientist in Microbiology at Dyson. Instead, the faecal pellets and saliva they produce (approximately 2000 pellets per day) can trigger dust allergy symptoms. "That can have a considerable wellbeing impact for those living in homes where dust mite colonies are present."
In fact, dust mite allergy symptoms are some of the most commonly experienced allergens worldwide1, and high levels of exposure to children has been associated with asthma2.
How to get rid of dust mites
Even if you have pets, house mites can be removed through effective means. What kills dust mites is the dual removal of dust and their food source – human dander. For simple cleaning tips including the best air purifier for dust removal, read on.
1. Vacuum where house mites live
Otherwise known as dander, skin cell debris is the primary food source of house mites. By removing dander you inhibit dust allergy symptoms, as dust mites aren't able to reproduce exponentially. To address the occurrence of them, vacuum high-traffic areas – including both sides of your mattress, sofas and other upholstery weekly. The most effective dust mite vacuum is one with an advanced filtration system. Dyson's stick vacuums can capture 99.97% of particles as small as 0.3 microns.3 Our most powerful vacuum – the Dyson V15 Detect Absolute Extra can capture 99.997% of particles as small as 0.1 microns4, and includes HEPA standard filtration.
2. Manage humidity levels
Mites such as house mites gain hydration from moisture from the air, so keeping humidity levels below 45 percent of room temperature is a big part of what kills dust mites5. The best air purifier for dust removal is one that contains HEPA standard filtration. Each of our air purifiers are sealed to HEPA H13 standards6 – for the latest in our air technology, the Dyson Purifier Hot+Cool Formaldehyde captures and destroys formaldehyde7. Alongside air purification, ventilate your home and air out bedding and blankets frequently, and make sure to focus your vacuuming on rooms that routinely sit above 25 degrees Celsius
Purifier fan heater.

Captures dust, allergens and gases.

Control with remote. Not Wi-Fi compatible.

RRP: NZ $799
Purifier and fan.

Captures dust, allergens and gases.

Control with remote. Not Wi-Fi compatible.


Automatically purifies the whole room1

Sealed to HEPA H13 standard – what goes inside, stays inside.4

Removes 99.95%3 of ultrafine particles for a cleaner, healthier home.

Diffused mode purifies you without the effect of cooling.
[1] Wechsler, Charles J et al. (2011) 'Squalene and cholesterol in dust from Danish homes and daycare centers', Environmental Science & Technology, 45 (9) 3872-3879.
[2] Asthma and Allergy Foundation of America (2015) Dust Mite Allergy. Available at: https://www.aafa.org/dust-mite-allergy
[3] Tested against ASTM F1977-04 (particles sized 0.3-0.5 microns), tested in MAX mode.
[4] Filtration tested against ASTM F3150, tested in Boost mode by independent third-party, SGS-IBR Laboratories US in 2020.
[5] 22 degrees Celsius. Optimal relative humidity levels will depend on temperature.
[6] Particle challenge by DEHS oil specified in EN1822 within a chamber specified in ASTM F3150. Tested in Max Mode at IBR US, for whole machine efficiency above 99.95%.
[7] Third party full machine testing based on GB/T 18801-2015 formaldehyde cumulative clean mass testing with continuous injection until plateau of formaldehyde CADR is achieved. Results may vary in practice.