Buy direct from the people who made it
Engineered for different hair types
After rigorously testing different hair types in our laboratories, we've engineered attachments designed to style different types of hair.
Magnetic styling attachments
Flyaway attachment for straight, wavy and curly hair types.

The ideal finishing tool for sleek, straight styles. Hides flyaways under longer hair to give you a smooth, shiny finish.1 With just air.

Styling concentrator for all hair types.

The wide, thin design of the Styling concentrator creates a high-velocity blade of air that's perfect for styling. And because the air is focused, you can style one section at a time – without disturbing the rest.

Diffuser for wavy, curly and coily hair types.

Engineered to disperse air evenly around your curls, the Diffuser simulates natural drying, helping to reduce frizz and define curls and waves. Longer prongs allow you to style more hair with greater control – and reach deeper into the hair.

Gentle air attachment for all hair types.

Engineered to be kinder to fine hair and sensitive scalps, the Gentle air attachment diffuses the air, creating a gentle, cooler airflow - while still drying hair fast.

Wide-tooth comb attachment for curly and coily hair types.

Engineered for curly and textured hair, the Wide-tooth comb has robust teeth to help lengthen hair as it dries, or create volume and shape.
Dyson Supersonic™ hair dryer attachments and accessories
Magnetic attachments, storage and styling accessories for your Dyson Supersonic™ hair dryer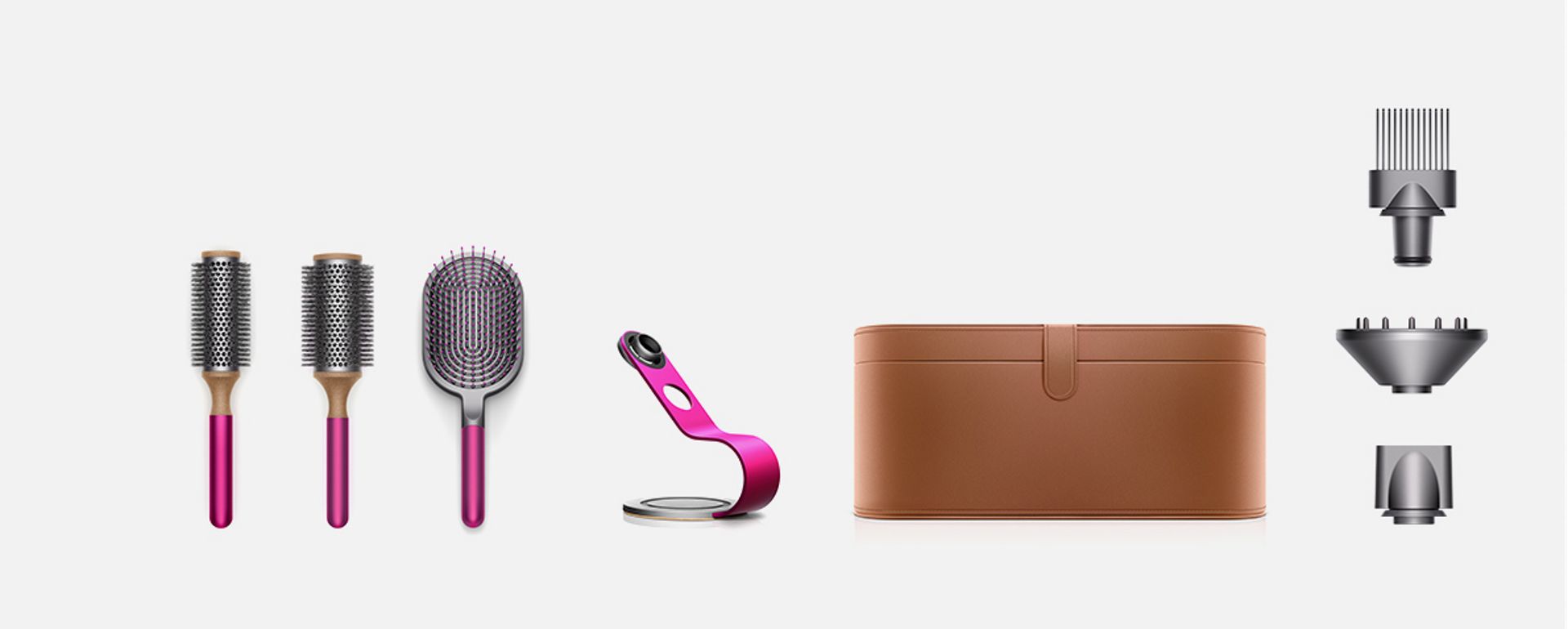 Discover the possibilities of the Dyson Supersonic™ hair dryer styling attachments
Smoothing nozzle

Create an amplified smooth look, with volume at the roots and a bend at the ends.

Styling concentrator

Create bends or go super-sleek. It's got the control to do either.

Diffuser

Control your curls, or volumise them. Or use it on straighter hair to create movement.

Gentle air attachment

Add volume at the roots, or use the diffused airflow to create texture through the lengths.

Wide-tooth comb attachment

Lengthen hair completely, or tease out curls just a little bit. Available as a separate accessory.
Extreme heat can decrease shine
Healthy hair reflects light

The Dyson Supersonic™ hair dryer's intelligent heat control prevents extreme temperatures, protecting against overheating. Less damaged hair reflects more light in a single directions, so hair appears shiny.

Damaged hair scatters light

Extreme temperatures can make small pores appear within the strands. These scatter light in all directions, reducing reflected light and decreasing shine.
Intelligent heat control helps protect your shine
Unlike some others, the Dyson Supersonic™ hair dryer measures air temperature over 40 times a second, and regulates the heat. This prevents extreme heat damage, to help protect your hair's shine.